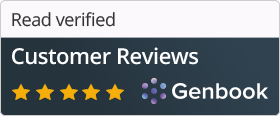 Want to hear what customers are saying about Allison at True Beauty? Check out our genbook reviews page for the most up to date, verified, customer reviews!
"Love getting facials from Allison. My skin feels firmer and more supple days after my facial treatment. The Radiancy LHE definitely makes a difference. I'm impressed with Allison's knowledge of the latest treatments and I trust her recommenedations." -V.L.
"After my facial with Allison, my skin felt instantly tighter... and so smooth! And of course Allison is the master at eyebrows! I would strongly recommend her!" -C.S
"All I can say is wonderful! Allison's amazing, and her attention to detail is evident in her work. I would not get my brows done anywhere else. She does so much more than just a "brow wax!" She shapes and defines your brows based on your face shape and hair color. Truly a unique experience. You will be amazed! " -B.C.
"Allison is extremely knowledgeable in her field and will answer or find out anything you may want to know about a certain problem. Friendly, warm, professional, great service, wonderful facials, and all around nice person. I would recommend Allison to EVERYONE." -J.R.
"My brows have never looked better! Allison is awesome and pays attention to all the small details! I can't wait for her to do my facial now!" -R.D.
"Her place is very cozy, clean and friendly. Allison is warm, caring and very knowledgeable. She gives a phenomenal facial and massage. When she completed my treatment, I felt very relaxed, pampered and my skin glowed. Her pricing was good. Would I recommend her services to family and friends? Absolutely." -D.C.
You can also find reviews on YELP under True Beauty Brows & Skin Care:
"I would highly recommend having your eyebrows done at this beautiful oasis. Allison is extremely meticulous when it comes to shaping your eyebrows. She really takes her time and ensures that you are 110% satisfied before you leave. Besides being a total eyebrow guru, she is one of the nicest, down-to-earth gals you will ever have the pleasure of meeting. She's the BEST!" - Brittany